Have you heard of chaga mushrooms? Chaga is also known as "Gift from God" and "The Mushroom of Immortality". It's an ancient remedy that has been valued for centuries due to its natural medicinal properties; the first verifiable mentions of Chaga are actually from the 16th century and stem from Russia.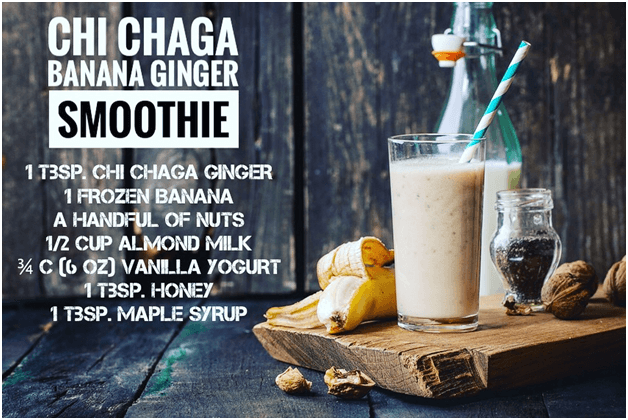 Chaga is a mushroom that grows on birch trees. It makes phytochemical that strengthen and heal the tree and it's very nutritious. Chaga contains B vitamins, minerals such as copper, calcium, potassium, manganese, zinc, iron, as well as flavonoids, phenols and enzymes.
These wonderful mushrooms can support the entire body. In some countries, people drink it daily as a tea, smoothie and even mixed with coffee. Russians also discovered that chaga mushrooms are the most potent adaptogen known to date. Adaptogenic plants and mushrooms can help bring balance in the body and have beneficial effects on the digestive, nervous, immune, endocrine and cardiovascular system. It helps to support the body and mind, and help us cope with daily stress.
Ready to bulletproof your body with a chaga smoothie?
Ingredients required:
1 TABLESPOON OF CHI CHAGA POWDER "GINGER"
1 FROZEN BANANA
1 HANDFUL OF NUTS
1/2 CUP OF ALMOND MILK
3/4 C (6 oz) VANILLA YOGURT
1 TABLESPOON OF HONEY
1 TABLESPOON OF MAPLE SYRUP
Enjoy!