Screaming deal for Amazon Prime members!
SoCal Hot Sauce 4-pack gift packs now available at super low introductory prices.
Shop now: https://www.amazon.com/stores/page/0CC0BDAE-3CDF-451E-9363-F13D37DDFF88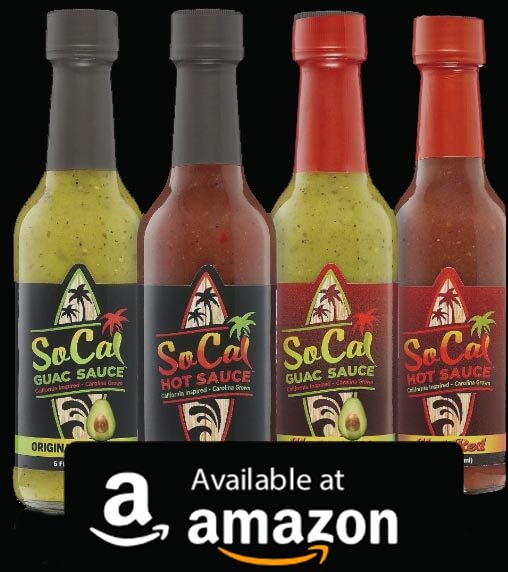 The perfect gift for him or her. For the any holiday or birthday, get your loved one a unique gift pack of craft hot sauce. There is a 4-pack combination for everyone, mild, hot and avocado lovers.
What this company has done is they have taken the essence of Southern California flavors and put them in a bottle. These aren't your standards hot sauces, SoCal has done a perfect job on creating their own original flavors that you won't find with any other hot sauce brand. One taste and you'll see why the their Guac Sauce was voted the best in the nation at the 2017 Fiery Foods show in Irving, Texas. In only 2 months after launching, this company won the Golden Chile, the most prestigious award in the hot sauce industry! Trust me, you'll love it.
SoCal Guac Sauce, Original Avocado: guacamole is yesterday's news as this sauce takes the world by storm. not to be outdone, the spicy version of SoCal's Guac Sauce is quickly becoming just as popular. Guaranteed to be your new favorite and will replace any guacamole recipe in your rolodex.

SoCal Hot Red is kicked up with a touch of Ghost Pepper that provides a pleasurable, slow building heat that peaks right before it becomes too intense. The Original Red Southern California inspired sauce has the same flavor forward style with unique southwestern peppers and spices.
All 4 sauces are the absolute best the craft hot sauce industry has to offer. Don't just take my word for it… check out the TEN national awards this veteran owned company had claimed in their first 6 months of existence!
Learn more at: https://www.socalhotsauce.com/