Instapot seems to be quite the craze these days. Everybody seems to be buying one, testing out recipes, even joining facebook groups, created with the sole purpose of sharing and exchanging tips and tricks on how to excel in instacooking.
What is the reason this gadget has taken the cooking world by storm and why would you even want to consider getting one? Let's take a look at its characteristics and maybe we will be able to answer these questions.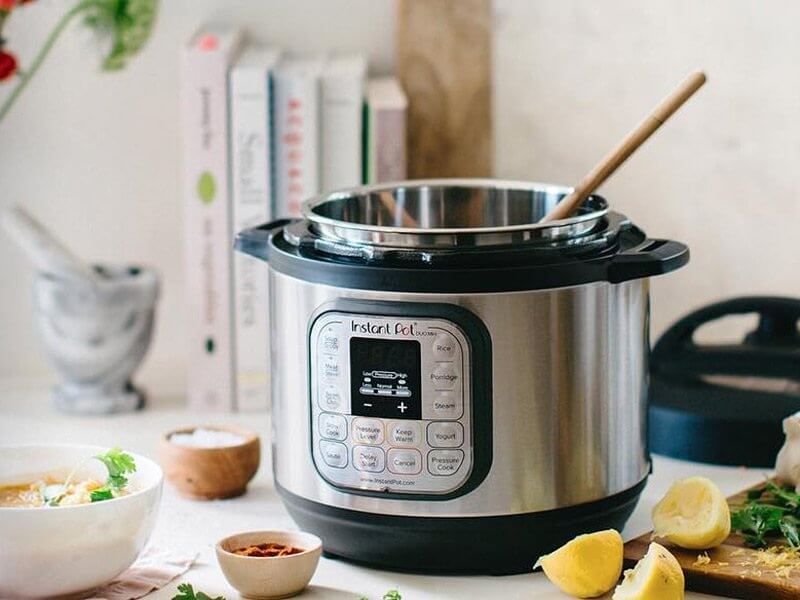 What's an Instapot?
The instapot has been around for a few years now but its popularity has skyrocketed over the past two. The reason for that might be its main feature – it's a multifunctional cooker, which enables you to create a wide variety of dishes. It allows you to get rid of your steamer, frying pan, saucepan, rice cooker and yogurt maker all at once.
The instapot combines pressure and steam, which considerably shortens cooing times for most meals.
It enables the quick and safe preparation of even elaborate meals on a busy weeknight, which is actually where most of its appeal comes from. We all want to prepare a great dinner but rarely have the time or energy to spend hours in the kitchen after a hectic day at work. This is where the instapot comes to the rescue.
What to Look For In One
How to choose the best instapot , with so many brands on the market, each claiming to be the best?
Well, look for one that is programmable, as there is even the bluetooth-enabled type now. In general, the more stuff your instapot can do, the better. Choose one that will help you replace as many kitchen utensils as possible.
Another way to decide on a pressure cooker is by reading other customer reviews on eBay and Amazon. Check out ratings and see who is unhappy with your chosen brand and why. Consider the pros and cons and compare. You will have a much easier time picking your instapot afterwards.
How Do I Use It?
Even though it's comparatively easy to use, the instapot does require spending some time cooking until you get used to it. Its numerous buttons and features might be cool but they might also be confusing at first. Practice makes perfect is absolutely valid in this case as well, so it might take you a while before you become a pro.
Cooking times will probably be the first thing to get used to. Pressure and steam combined can shorten meal preparation several times, so you can expect a dish that usually takes up to four or five hours to be ready in one. Keep this in mind if you are planning on having guests for dinner.
Cleaning and Maintenance
One of the best things about cooking in an Instapot is the fact that you don't have a pile of dirty dishes in the sink after using it. You simply have to unplug the device and remove the inner pot where the food is prepared.
The removable parts can be cleaned in a dishwasher. Just make sure you clean the lid by hand.