When the family is hungry and money is tight, what better meal for sharing, and pleasing everyone, than pizza? The world's number one catered food is versatile enough to satisfy every taste. Try these tricks and ideas suggested by pizza catering pros in Melton (Leicestershire) to make pizza night truly special.
"Garden Party" pizza
Ask for all-veggies and mozzarella cheese on a crushed tomato sauce base. Get the whole grain or whole wheat crust to add more nutritional value to your meal. Serve with a side salad, and get all you required daily veggie servings in a delicious way!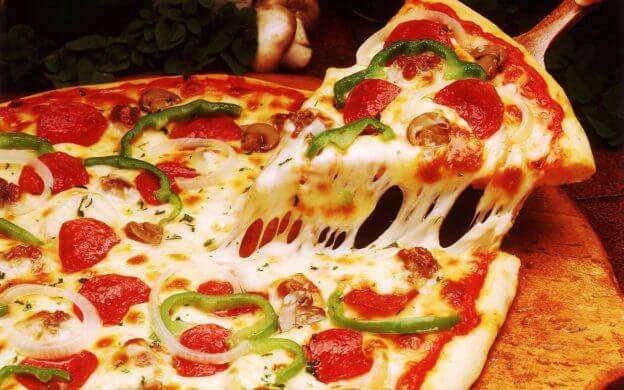 British Hawaiian
This version of the pineapple-ham based pizza adds bits from the Full English breakfast: chopped tomato, mushrooms and bacon. This one is so succulent it does not even need cheese. The ingredients can bind perfectly to a thin or regular crust.
Italian Carbonara
Enjoy a creamy Alfredo-style sauce on a regular crust, and request that it is topped with crushed, crispy bacon, Italian sausage, thick pepperoni, and prosciutto. Ask for crushed garlic and oregano on top to bring out a true punch of Mediterranean flavor.
American Southern
Go really adventurous and take a trip to the land of all-things-fried. Get a regular crust pizza with yellow, American cheese sauce. Ask for soft bits of elbow pasta (macaroni and cheese) and fried chicken bits as toppings. An American Southern favourite, this "mac n'cheese n' fried chicken" pizza will be a conversation piece on its own!
Pesto meatball
A hearty Italian dish that you can eat with your hands, order delicious pesto sauce as your base, and top your pizza with savoury Italian meatballs to bring all the Old World magic to your family table.
Latin fiesta!
Forget Mexican fajitas. Ask for sizzling steak, red, green, and orange slices of pepper, caramelized onions and delicious, hot peppers on a white cheese (queso) base. Mexican is now more fun to eat and enjoy. Add a dash of hot sauce and dance your happy heart away.
Grilling night pizza
Better than firing the grill! Order your pizza with grilled chicken, steak, and Italian sausage. Use BBQ sauce as your base and enjoy the best thing about grilling: the meats! Why not serve with a side salad or potato crisps and enjoy during game night!
Dairy farm pizza!
Get your cheese kick with this traditional favorite done even better. Ask for it all: fresh and traditional mozzarella, Swiss, Muenster, feta, American, and cheddar cheese. Let them bubble up to perfection on a crispy crust with light carbonara Alfredo sauce.
Cheese it out!