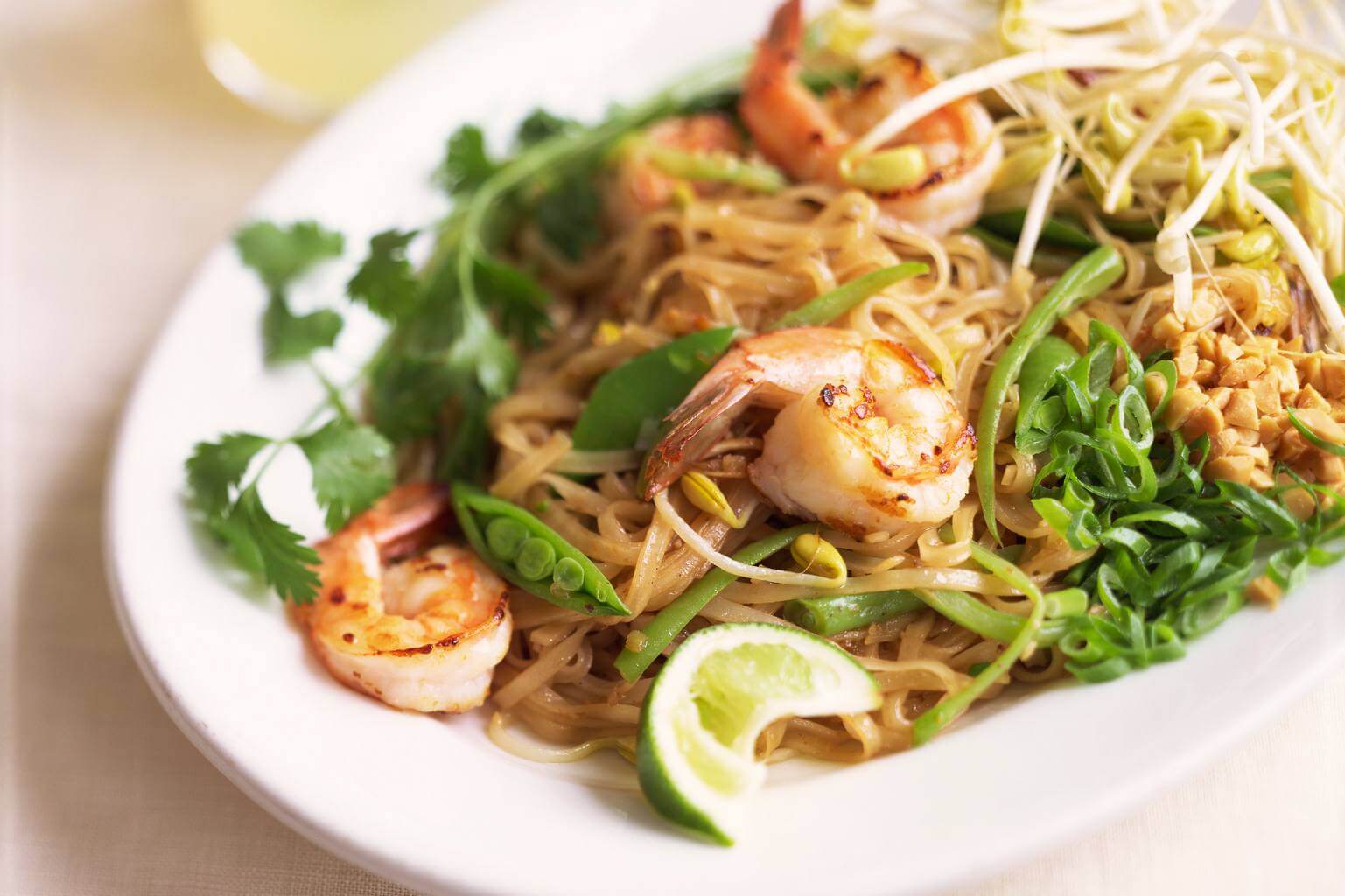 Thailand, a country that visitors flock to because of its picturesque landscape and remarkable sites. However, whether you're visiting Bangkok, Chiang Mai or the Phi Phi Island, a common thread is the mouth-watering food.
When thinking of what to eat in Thailand, a dish that never fails to come to mind is Pad Thai, but what about the rest of the delectable food in the region? There's no better place for Thai Cuisine than Thailand itself. Here is a list of must-try dishes when visiting the region – think of it as a bucket list for your taste buds.
Pad Thai – Stir-Fried Noodles
As Pad Thai is synonymous to Thai food, it comes to no surprise that it is the most well-known food of the country. This dish is quick and easy to make, making it popular on the streets of Thailand but also in restaurants across the country and the world.
Traditionally, Pad Thai consists of stir-fried rice noodles, eggs, tofu, chilli pepper and garlic with the option to add in chicken or prawns. It is typically garnished with bean sprouts, spring onion, lime juice and peanuts for a satisfying crunch.
GaeengKeow Wan Gai – Thai Green Curry with Chicken
While not as well-known as Pad Thai, GaeengKeow Wan Gai is another dish that Thailand is famous for.
The secret to the dish is coconut milk, which gives this soup its rich and creamy consistency – and to make it whole, a green curry paste consisting primarily of green chilis, garlic and shallots is added along with your meat of choice, although chicken is preferred.
While this dish is authentically enjoyed in Thailand, one of the best restaurants in Chelmsford, Banana Tree , serves a mouth-watering Thai Green Curry that is one of the best we've tasted out of Thailand.
Tom Yum Goong – Spicy Thai Soup with Prawns
Translated from Thai to English, Tom Yum Goong quite literally means boiling sour and spicy Thai salad with prawns– not an exact translation, but still a great description of the soup.
Served in a large bowl, the sour and spicy soup consists of lemongrass, galangal, fish
sauce, chillies, kaffir lime leaves, lots of lime, prawns and some coriander for garnish – the soup can also include ingredients such as mushrooms, tomatoes and onions for added flavour.
GuayTeow– Noodle Soup
Looking for something to eat at any time of the day? Then look no further then GuayTeow, a popular Thai noodle soup that is delicious for breakfast, lunch, dinner or for a midnight snack – it's very popular with the locals and as such can be found almost everywhere.
The soup can be made with quite a bit of freedom and therefore, the taste will vary from vendor to vendor – egg or rice noodles are added to the broth, an option of chicken, pork or beef, wontons or meatballs and a variety of toppings including sugar, dried chilli peppers, lime juice, and fish sauce.
Pad See Eiw – Stir-Fried Wide Rice Noodles
You might recognize this dish after seeing it in many a Thai restaurant. London, a melting pot of cultures, has quite a few.
Similar to Pad Thai, Pad See Eiw consists of stir-fried noodles, however in this case they are a wide noodle, coated with a thick dark soy sauce that can be complimented by chicken, pork or beef – as well as Chinese broccoli or cabbage. This dish is not known for spice, unlike many Thai dishes, and therefore a tamer option for those with milder taste buds. Spice can be added in the form of dried chilli flakes and/or vinegar.
Khao Neow Ma Muang -Sticky Rice with Mango
While not common in the western world, a popular ingredient used in the desserts of Thailand is sticky rice. The most popular variation is Khao Newo Ma Muang, consisting of sweet sticky rice with mango, all covered in a coconut cream syrup – the result is a sweet delight enjoyed in and outside of the country.
Khao NiaoToorien -Sticky Rice with Durian
An acquired taste for some and a favourite of others, Khao NiaoToorien is similar to Khao Neow Ma Muang, however it substitutes mango for durian. If you're intrigued at trying something exotic, then this is the dessert for you, as the taste of durian can be described as savoury, sweet, and creamy all at once – a combination of diced garlic, caramel and whipped cream. Durians have also been banned in certain places because of its pungent smell.
We could go on for days about the delicious food Thailand has to offer, from GaeengKeow Wan Gai to Khao NiaoToorien, but instead of taking our word for it… pack your bags and take a trip to Thailand instead, and experience all the mouth-watering delicacies the region has to offer.