Myanmar cuisine is very diverse with so many regional influences. While in the big cities like Yangon or Mandalay, you will experience the signature of Indian curry or Chinese dishes, every states still boasts its own specialties.
For any visit to Myanmar, these are the top dishes you should eat :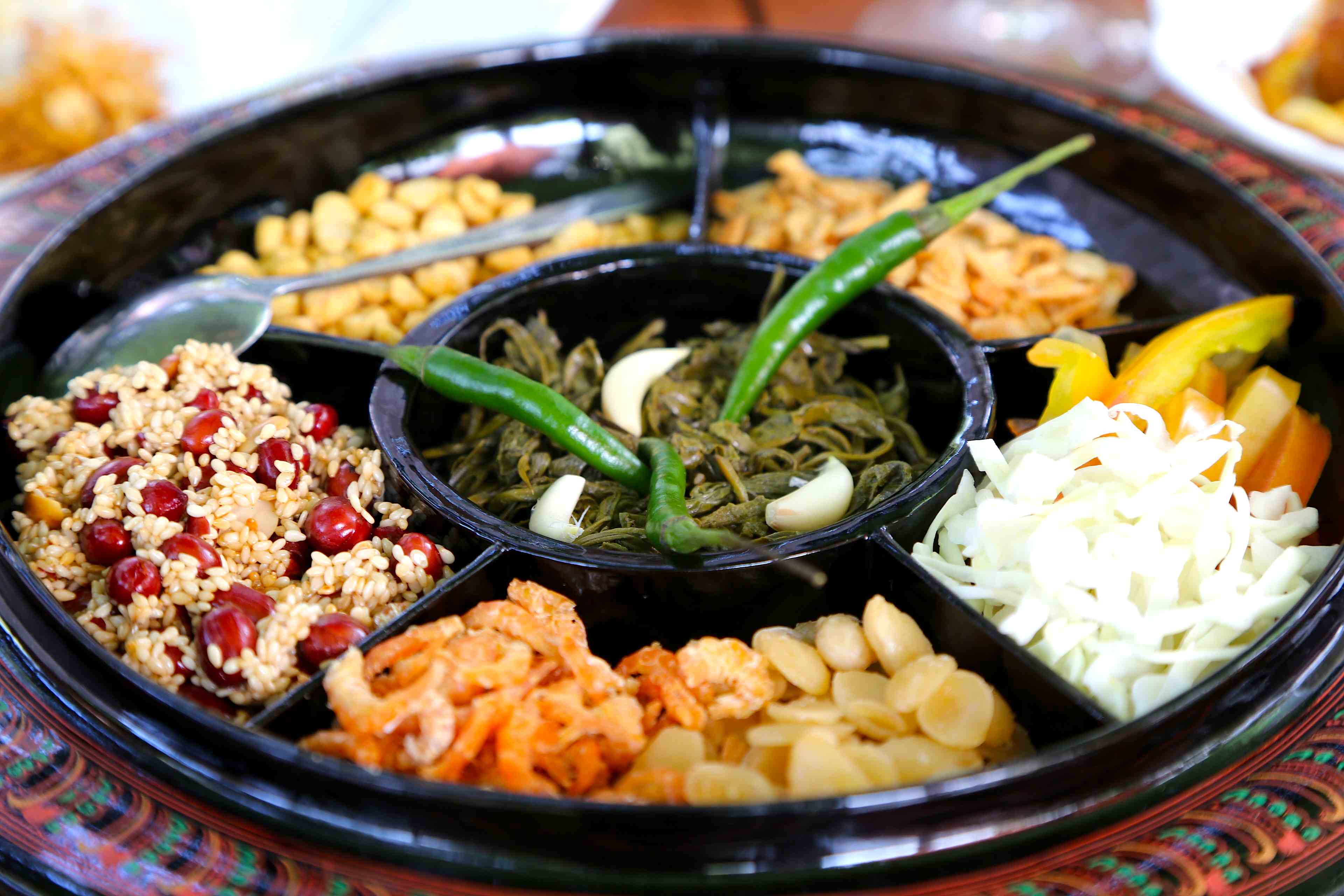 Tea leaf Salad
Lephet Thoke is the local name of this dish. The main ingredient of tea leaf salad comes from fermented tea. Only the most fresh tea tops are picked then follow a traditional way to ferment for days.
You can taste it alone or consider it like a snack along with peanut or some other nuts.
Shan Noodle
It is said that if you have not tried Shan Noodle then you did not see Burma. The saying is right since Shan noodle is very famous and tasteful.
There are certain variation from one place to another but if you try it in Shan state where it originated, the flavor is very special : sweet soup, fresh vegetable, juicy chicken and melting additions.
We suggest you to embark on a Yangon Food Tour to sample Shan noodle in some of the best restaurants in Yangon downtown for your first time visit.
Burmese Shrimp Curry
There are numerous types of curry in Myanmar yet personally we recommend Shrimp Curry in Southern states. Depending on the local cook, it may be pretty spicy but it really defines your palette. Shrim Curry does not change the authentic taste of shrimp, it enhances all the herbs and shrimp smells in a sophisticated way. The best shrimp curry should be accompanied with rice.
Tofu fritters
For those who ever sampled tofu in China or Vietnam, this tofu dish is totally different. It is fresh and melting. This deep-fried recipe is one of the favorite dishes that Shan people eat.
Others from tofu fritter, Tofu salad is also very notable for its notorious and healthy ingredient.
Noodle Salad
Nangyi Thoke is a popular dish. It is easy to find everywhere in the street, fine dining restaurant and it demonstrates the simplicity of food as well the blending of aroma.
For any Myanmar Food Tour, noodle salad is a must-try. It contains thick rice noodle paste, bean sprouts, pice of chicken, slide of fish cake and slice of boiled egg.
As mentioned, Myanmar is a melting ports of many cuisines, there are more dishes on top 10 eats of Myanmar like Duck Egg Vermicelli, wrapped shrimp and vegetables, Mohinga… the more you travel further into the land of Myanmar, you will understand better the diversity it has been creating.